Adolescent idiopathic scoliosis – to operate or not? A debate article
Patient Safety in Surgery
2008
2:25
Received: 10 September 2008
Accepted: 30 September 2008
Published: 30 September 2008
Abstract
Adolescent idiopathic scoliosis (AIS) represents a rare condition with a potentially detrimental impact on young patients. Despite vast clinical research and published treatment guidelines and algorithms, the optimal therapeutic choice for these patients remains highly controversial. While advocates of early surgery emphasize the benefits of surgical deformity correction with regard to physical and psychological outcome, the opponents base their arguments on the high risk of complications and a lack of documented subjective long-term outcome. In the present paper, the authors were invited to debate the opposite positions of "pro" versus "contra" surgical treatment of AIS, based on the currently available evidence and published guidelines.
Keywords
Adolescent Idiopathic ScoliosisSpinal FusionSpinal DeformityCurve ProgressionSkeletal Maturity
Introduction
Adolescent idiopathic scoliosis (AIS) is a three-dimensional spinal deformity with potential adverse long-term physical and psychological impact on young patients. Surgical treatment of spinal deformity remains an emotional decision for both the patients and their parents. Positive results from non-operative treatment modalities have been increasingly reported in the peer-reviewed literature. Thus, the decision-making process for operative vs. non-operative treatment should be based on the individual patient's disease characteristics, curve type, risk factors for progression, and subjective expectations. In the present paper, two groups of experts in the field for operative and non-operative treatment of AIS were invited to debate this important topic from an evidence-based perspective. The aim of this debate article is to provide a balance between the available treatment options and help as a guide in the decision making process for this uncommon, but potentially disabling disorder in young patients.
Debate: "Pro" surgery
In order to promote an intervention for a specific condition, it must be demonstrated that; 1) the natural history of the condition is undesirable, 2) the intervention alters this natural history in a favorable and reproducible manner, 3) the complications are minimal, and 4) the long term side-effects of the intervention are not detrimental, so that the risk-benefit ratio favors the intervention over the condition's natural history. Scoliosis is a general term indicating a lateral curvature of the spine due to a variety of etiologies. Each etiology has a specific natural history and, consequently, has its own unique treatment goals, and risk-benefit and treatment efficacy profile. Early studies that investigated the natural history of untreated scoliosis and complications associated with treatment, contain study populations of mixed scoliosis etiology, and, therefore, have provided somewhat tainted conclusions clouded by heterogeneous study populations [
1
–
4
]. The purpose of this argument is to demonstrate that 1) spinal deformity associated with AIS can increase, 2) specific risk factors have been identified that reliably predict curves at risk for progression, 3) the natural history of untreated, progressive scoliosis is unfavorable and, 4) surgical treatment of progressive AIS is safe, consistently achieves the goals of treatment, and favorably alters an otherwise negative natural history in a measurable fashion (figures
1
,
2
,
3
).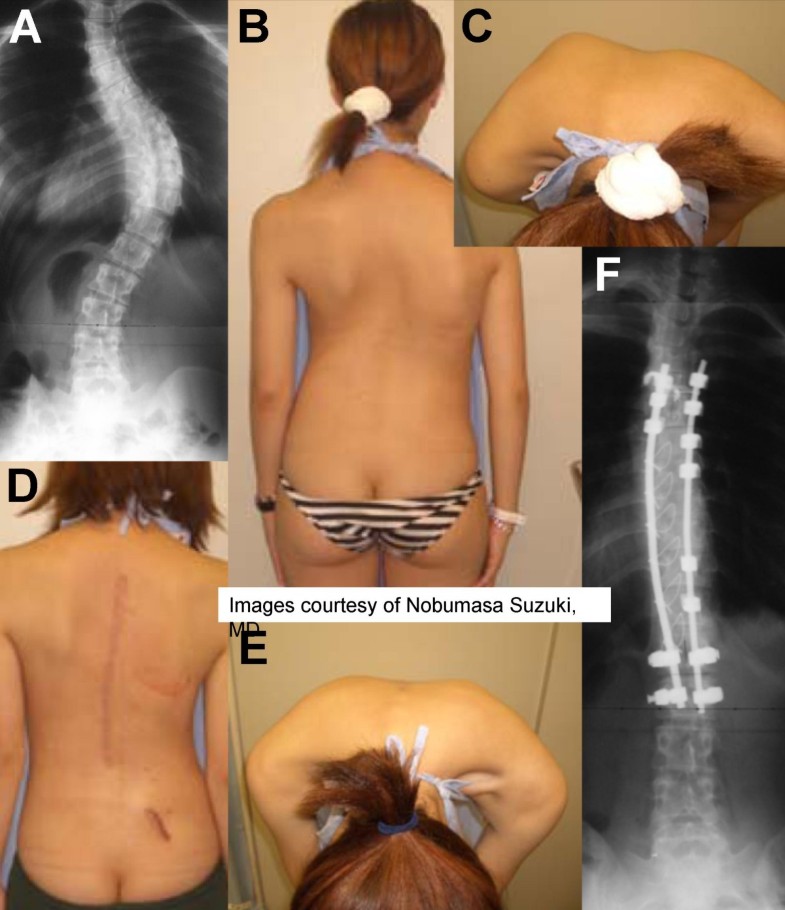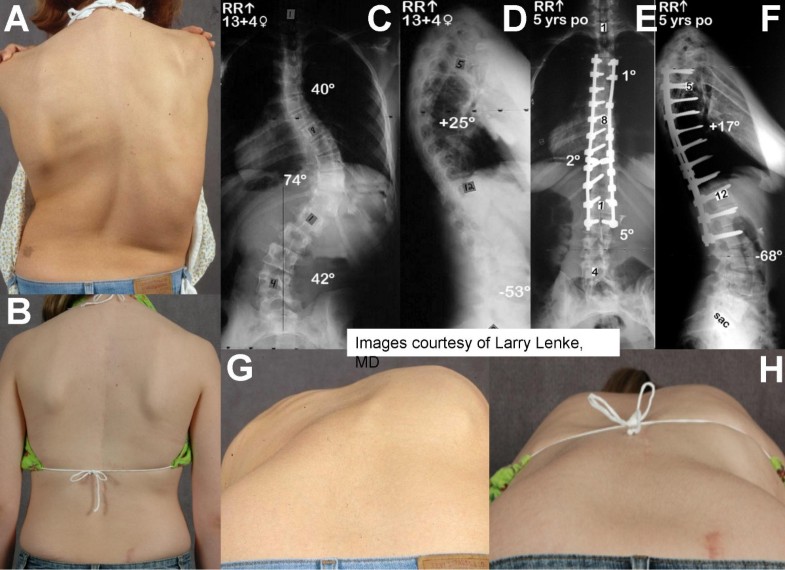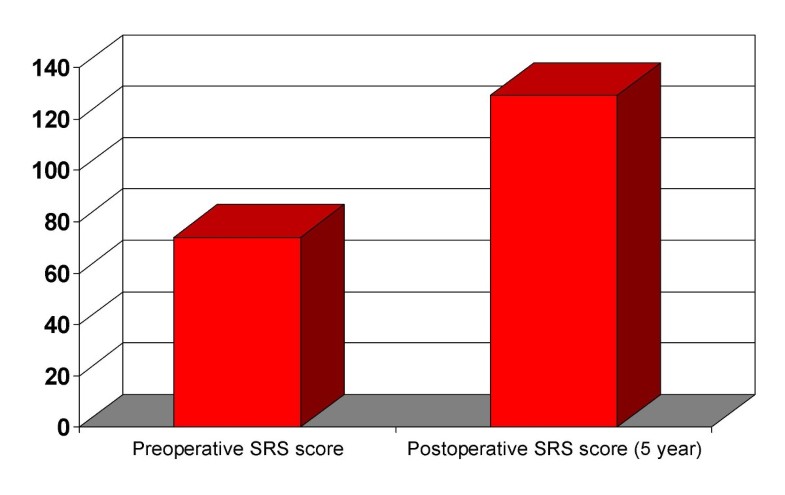 Conclusion
"Pro" surgery
AIS is a relatively uncommon condition, occurring in approximately 2–3% of children. The number of children that require treatment for AIS, is even smaller, approximately 0.1–0.3%, and those that receive surgical treatment is smaller still27. However, progressive AIS is not a benign condition and should not be observed. Children with progressive AIS report lower self-image and worse HRQL scores than controls with no scoliosis. These low scores translate into further disability and dissatisfaction into adulthood. Although recent studies have indicated that the prognosis for untreated AIS in adults is not as dire as was originally thought, adult patients with untreated scoliosis demonstrate greater disability and lower HRQL scores compared to controls and those treated surgically. When progressive AIS has been identified, surgical intervention reliably stops curve progression and restores spinal balance, with minimal perioperative complications. Postoperatively, children surgically treated for AIS consistently demonstrate improved HRQL scores, including improved function, improved self-image and decreased pain from preoperative values. These findings support surgical treatment for progressive AIS, as non-operative measures will only allow the condition to worsen.
"Contra" surgery
Health-related signs and symptoms of idiopathic scoliosis cannot be changed by surgery. Long-term beneficial effects of spinal fusion are not yet revealed and the long-term risks of surgery for scoliosis simply are not known. HRQL scores cannot be regarded as being valid considering the dissonance effect. Therefore the indication for spinal fusion surgery is for cosmetic reasons, only. When recognizing, that todays standard of conservative treatment can in fact lead to the same cosmetic effects as spinal fusion surgery, the latter treatment is rarely needed in patients with AIS.
Consent
Written informed consent has been provided from the patients depicted in the figures, and copies of the respective consents are available for review by the editorial board.
Declarations
Acknowledgements
The authors wish to thank Dr. Philip Stahel, Editor-in-Chief of Patient Safety in Surgery, for inviting, moderating, and editing this debate article. The "pro surgery" team would like to acknowledge Dr. Nobumasa Suzuki and Dr. Larry Lenke for providing the surgical cases shown in figures 1 and 2.
Authors' Affiliations
(1)
Asklepios Katharina Schroth Spinal Deformities Rehabilitation Center, Bad Sobernheim, Germany
(2)
Colorado Spine and Scoliosis Institute, Lonetree, USA
(3)
Department of Health Technology and Informatics, The Hong Kong Polytechnic University, Hong Kong, PR China
(4)
Departmet of Orthopedics, University of Colorado School of Medicine, Denver, USA
(5)
Rehabilitation services, Ealing Hospital, Southall, London, UK
Copyright
© Weiss et al; licensee BioMed Central Ltd. 2008
This article is published under license to BioMed Central Ltd. This is an Open Access article distributed under the terms of the Creative Commons Attribution License (http://creativecommons.org/licenses/by/2.0), which permits unrestricted use, distribution, and reproduction in any medium, provided the original work is properly cited.