Complications in colorectal surgery: risk factors and preventive strategies
Philipp Kirchhoff

1,

Pierre-Alain Clavien

1 and

Dieter Hahnloser

1

Email author
Patient Safety in Surgery
2010
4:5
Received: 5 August 2009
Accepted: 25 March 2010
Published: 25 March 2010
Abstract
Backround
Open or laparoscopic colorectal surgery comprises of many different types of procedures for various diseases. Depending upon the operation and modifiable and non-modifiable risk factors the intra- and postoperative morbidity and mortality rate vary. In general, surgical complications can be divided into intraoperative and postoperative complications and usually occur while the patient is still in the hospital.
Methods
A literature search (1980-2009) was carried out, using MEDLINE, PubMed and the Cochrane library.
Results
This review provides an overview how to identify and minimize intra- and postoperative complications. The improvement of different treatment strategies and technical inventions in the recent decade has been enormous. This is mainly attributable to the increase in the laparoscopic approach, which is now well accepted for many procedures. Training of the surgeon, hospital volume and learning curves are becoming increasingly more important to maximize patient safety, surgeon expertise and cost effectiveness. In addition, standardization of perioperative care is essential to minimize postoperative complications.
Conclusion
This review summarizes the main perioperative complications of colorectal surgery and influencable and non-influencable risk factors which are important to the general surgeon and the relevant specialist as well. In order to minimize or even avoid complications it is crucial to know these risk factors and strategies to prevent, treat or reduce intra- and postoperative complications.
Keywords
Anastomotic Leakage
Enteral Nutrition
Postoperative Ileus
Splenic Injury
Prophylactic Drainage
Introduction
Colorectal surgery is performed for many diseases such as colorectal cancer, ulcerative colitis, Crohn's disease, mechanical bowel obstruction and recurrent diverticulitis, often resulting in major reconstruction of the gastrointestinal tract. Injury, ischemia, rectal prolapse and proctological disorders may also require large or small bowel resection. Potential risks of colorectal surgery are mainly those of any major abdominal surgery, and usually occur while the patient is still in the hospital. Because of the many indications for and the various extents of colorectal or small bowel resections the rate and spectrum of complications differ.
The lack of consensus on how to define and grade postoperative complications has greatly hampered the evaluation of surgical procedures. A new classification of complications, initiated in 1992 by Clavien and Dindo is based on the type of therapy needed to correct the complication. The principle of the classification is simple, reproducible, flexible, and applicable. The Clavien-Dindo Classification appears reliable and may represent a compelling tool for quality assessment in surgery [1, 2].
In general, complications can be divided into intraoperative and postoperative complications. Occurrence of intraoperative complications such as bleeding, bowel injury, ureteral lesions and bladder injuries are caused by intraabdominal adhesions, anatomic problems, the experience of the surgeon and many other factors. Major postoperative complications include wound infection, anastomotic leakage, ileus and bleeding [3].
Only a few recent publications elucidate risk factors for intra- and postoperative complications in colorectal surgery [4–6]. The importance of some risk factors such as age, nutrition status of the patient and experience of the surgeon are becoming more accepted [5, 7–9]. In addition, there are many other factors that influence outcome of colorectal surgery which could be modified preoperatively to prevent intra- and postoperative complications.
The aims of this review are to provide an overview of the current literature on complications of colorectal surgery and to describe risk factors and strategies to prevent, treat or reduce complications.
Methods
A literature search was carried out, using MEDLINE, PubMed and the Cochrane library from 1980 to 2009 using the following terms: complications, risk factors, colorectal surgery, colorectal resection, laparoscopy, surgical site infection, anastomotic leakage, and bowel cleansing. This review is a general overview that provides an update on these topics for the reader.
Preoperative risk factors
Risk factors in emergency, in elective open and laparoscopic colorectal surgery should be recognized prior to surgery in order to reduce complications and to initialize individualized treatment as soon as possible. However, some risk factors such as age, gender and prior abdominal surgery can obviously not be influenced before surgery (Figure
1
).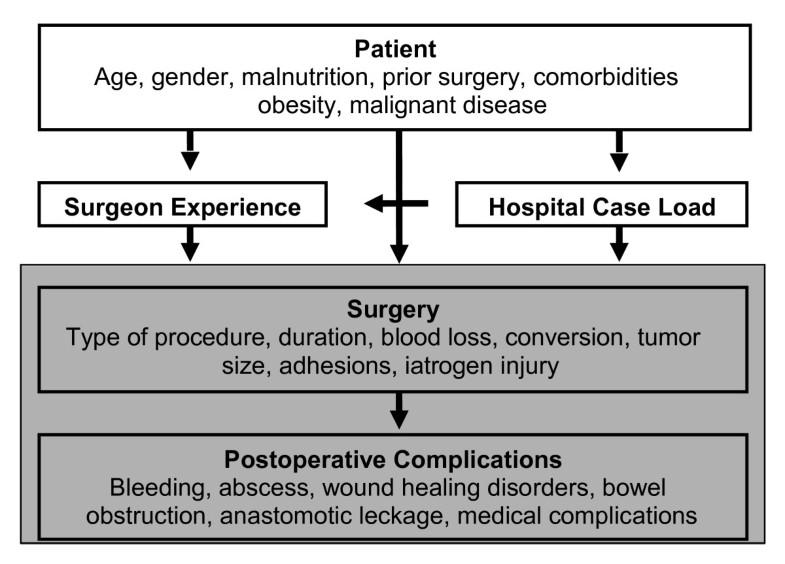 Non-Influencable Risk factors
Influenceable risk factors
Intraoperative risk factors
Postoperative Factors
The majority of advancements in the care and survival of surgical patients have occurred in the postoperative period. These advances include changes in postoperative feeding, activity, pain control, ulcer and deep venous thrombosis prophylaxis. Here, we give a short update of current trends in postoperative analgesia and diet.
Postoperative Analgesia
The decreased length of hospital stay due to more cost effective outpatient procedures necessitates good postoperative pain management. It has been demonstrated that well managed pain control supports respiratory function and lowers the risk of complications [87]. In colorectal surgery the major modalities of postoperative pain control are patient-controlled anaesthesia, opioids, nonsteriodal anti-inflammatory drugs, and epidural anaesthesia.
Some studies show that pain control, patient satisfaction and bowel function are improved after abdominal surgery under epidural analgesia [88]. Carli et al. showed in a prospective randomized study that epidural anaesthesia significantly shortened the duration of postoperative ileus and improved postoperative pain control. Postoperative complication rates and length of hospital stay was not shown to be improved in this study [89]. Another study demonstrated that continuous epidural analgesia is superior to patient controlled opioid analgesia in relieving postoperative pain for up to 72 hours, but was associated with a higher incidence of pruritus [90]. Epidural anesthesia has a low complication rate, however, if complications occur they are mostly severe. The risk of a symptomatic spinal mass lesion after patient-controlled epidural analgesia was 1:2857 (0.04%), including epidural haematoma (0.02%; 1:4741) or epidural abscess (0.014%; 1:7142). Another recent study demonstrated that epidural analgesia reduced the need for prolonged ventilation or reintubation, improved lung function, increased blood oxygenation, reduced risk for pneumonia, to the contrary increases the risk of hypotension, urinary retention, and pruritus. Technical failures occurred in 7% [91, 92]. Despite the advantages of epidural anesthesia its use alone cannot prevent postoperative morbidity and mortality. It is therefore necessary to address its use in the context of multimodal intervention.
Postoperative Diet
The resumption of a diet is critical to the recovery. Before discharge patients should demonstrate return of intestinal tract function based on oral food intake, flatus and/or bowel movements. Traditionally, patients received a nasogastric tube decompression and were set on a "nil per os diet" postoperatively. Different trials failed to show that a nasogastric tube has any postoperative benefits for the patient, causing most surgeons to abandon its routine use [93]. There is much variability in regards to restarting enteral nutrition in patients undergoing colorectal surgery. Several trials demonstrated that the majority of patients tolerated oral intake in the immediate postoperative period, regardless of the presence or absence of traditional markers of normal gastrointestinal function. In a metaanalysis of 837 patients it was seen that reduced postoperative infections, reduced anastomotic complications and shorter length of stay was shown in patients who received immediate postoperative normal diet compared to patients who were fasted until gastrointestinal functions were resumed [94]. In a recently published analysis the advantages of early enteral feeding were not significant but showed a trend towards fewer postoperative complications [95]. Another metaanalysis of 13 trials (1'173 patients) came to the conclusion that there is no obvious advantage in keeping patients 'nil per os' following gastrointestinal surgery. Early enteral nutrition was associated with reduced mortality. This review supports the notion that early commencement of enteral feeding may be of benefit compared to the nothing by mouth policy [96].
In the last few years Kehlet et al. favored a multi-modal rehabilitation with an emphasis on preoperative information, reduction of surgical stress responses, optimized dynamic pain relief with continuous epidural analgesia, early mobilization and oral nutrition (fast-track surgery) [97]. Current results from fast-track colonic surgery suggest that postoperative pulmonary, cardiovascular, and muscle function are improved and body composition preserved as well as a normal oral intake of energy and protein can be achieved. Consequently, hospital stay is reduced to about 2-4 days, with decreased fatigue and need for sleep in the convalescence period. Despite a higher risk for readmissions, overall costs and morbidity seem to be reduced [97–99]. A recent randomized study by our group compared the 30-day complication rate of patients who underwent a fast track protocol or standard care after open colonic surgery. The fast-track protocol significantly decreased the number of complications (16 of 76 in the fast-track group vs. 37 of 75 in the standard care group; P = .0014), resulting in shorter hospital stay (median, 5 days; range, 2-30 vs. 9 days, respectively; range, 6-30; P < .0001). Fluid restriction and effective epidural analgesia were the key factors that determine outcome in the fast-track program [100].
In summary, there is a growing body of evidence that early enteral nutrition improves outcome and reduces postoperative complications. Despite proven advantages of fast track surgery the implementation of a standardized and multidisciplinary care is difficult since resistance is still enormous.
Complications
The most frequent postoperative surgical complications after colorectal resections are surgical site infection, anastomotic leakage, intraabdominal abscess, ileus and bleeding (Figure 1). These complications have different influences on outcome and have to be diagnosed accurately. In order to meet certain quality standards it is essential to assess postoperative complications [101].
Surgical site infection (SSI)
Colorectal operations are, at best, clean-contaminated procedures, and at times there is contamination of both the peritoneal cavity and the surfaces of the surgical wound. In addition, the diseases of the large bowel that require surgery tend to afflict elderly patients. Collectively, the combination of an unclean environment, major surgery and debilitated patients creates a situation that is associated with a very high incidence of wound infection. In open colorectal surgery the incidence of SSI varies from 2-25% and is associated with BMI ≥ 30, creation/revision/reversal of an ostomy, perioperative transfusion, male gender, ASA Score ≥ III and wound contamination [102, 103]. The incisional SSI rates in colon (n = 339) and rectal (n = 217) resections were 9.4% and 18.0%, respectively (P = 0.0033). Risk factors for SSI in colon surgery were ostomy closure (OR = 7.3) and lack of oral antibiotics (OR = 3.3), while in rectal surgery, risk factors were preoperative steroids (OR = 3.7), preoperative radiation (OR = 2.8), and ostomy creation (OR = 4.9) [104]. Some studies showed that perioperative oxygen supply and preoperative immunonutrition decreased SSI significantly [105, 106]. It is widely accepted that a laparoscopic approach lowers the rate of SSI [36, 107]. As for laparoscopic appendectomies [108], most surgeons use plastic wound protectors during specimen removal after laparoscopic resection. This certainly facilitates extraction through a small incision, but there are no randomized controlled trials demonstrating a reduction in wound infection. The role of antibiotic prophylaxis in preventing postoperative complications in colorectal surgery is well established through many studies. However, there is still a debate about the duration of the antibiotic treatment and the kind of antibiotic which should be used. In summary, most studies favour one to three intravenous doses of a second generation cephalosporine with or without metronidazole with the first dose being administered before skin incision [109, 110].
Anastomotic leakage: Risk factors, diagnosis and treatment
Anastomotic leakage is the most serious complication specific to intestinal surgery and ranges from 2.9% to as high as 15.3%. At least one third of the mortality after colorectal surgery is attributed to leaks. Within this context, knowledge of factors influencing anastomotic healing appear even more important [81, 111]. However, there is lack of a clear definition for what constitutes an anastomotic leak (radiological proven, clinically relevant, with or without abscess).
In general, the leakage rate for intraperitoneal anastomoses is significantly lower than for extraperitoneal anastomoses. Anterior rectal resections have the highest leakage rate of up to 24% [112, 113]. The main risk factors for anastomotic leakage using univariate analysis were male gender (OR = 3.5), previous abdominal surgery (OR = 2.4), Crohn's disease (OR = 3.3), rectal cancer < or = 12 cm from the anal verge (OR = 5.4) and prolonged operating time (P = 0.05 as a continuous variable and P = 0.01 when prolonged operative time was >120 min). Male gender, a history of previous abdominal surgery and the presence of a low cancer remained significant after multivariate analysis [13].
Another multivariate analysis showed that American Society of Anaesthesiologists Grade III to V (P = 0.04; odds ratio, 5.6; 95 percent confidence interval, 1.6-15.3) and emergency operation (P = 0.03; odds ratio, 4.6; 95 percent confidence interval, 1.9-9.8) were independent factors associated with anastomotic leakage. The risk of anastomotic leakage was 8.1% (odds ratio, 10.5; 95% confidence interval, 2.7-26.8) if both factors were present [114].
Most studies comparing high and low anterior resections have shown that the level of anastomosis is the most important predictive factor for leakage. The high-risk level for leakage varies between anastomoses from <10 to <5 cm from the anal verge depending on the cited study [115, 116].
There seems to be no significant difference in leakage when comparing a handsewn and a stapled technique regardless of the level of anastomosis [117]. Intraoperative problems and postoperative strictures seem to be more frequent in stapled anastomosis [118]. However, in a recent Cochrane review ileocolic stapler anastomoses were associated with fewer leaks than handsewn anastomoses [119].
The available data comparing the anastomotic leakage rate in laparoscopic or open operated patients showed no difference regardless of the level of the anastomosis [120]. In cancer patients anastomotic leakage (regardless of open or laparoscopic technique) is associated with poor survival and a higher recurrence rate after curative resection [121, 122].
Diagnosis of anastomotic leakage
Because of the severity of the complications associated with an anastomotic leak, it is imperative to identify the problem and act as early as possible. Most groups base the diagnosis on clinical symptomatic leakage, manifested as gas, purulent or fecal discharge from the drain, purulent discharge from the rectum, pelvic abscess or peritonitis. It is usually necessary to obtain objective tests of anastomotic integrity because of the non-specific clinical signs. Water soluble enemas or CT scans are widely used for diagnosis of anastomotic leak. Interestingly, in two recent studies anastomotic leaks were more often diagnosed late in the postoperative period and more often after hospital discharge, or 12 days postoperatively [123, 124].
Treatment of Anastomotic Leakage
Anastomotic leaks may be divided into those which are clinically significant and those which are not. Subclinical leaks are more benign in their natural history compared with clinical leaks although quality of life and bowel function does not differ in these groups [125]. In pelvic abscess formation after colorectal surgery CT scan-guided percutaneous drainage should be performed in hemodynamically stable non-septic patients and has a success rate of up to 80% [126, 127]. With signs of free anastomotic leckage in the abdominal cavity by CT scan the indication for surgery is mostly given. Despite the good results with conservative therapy (including antibiotics), the indication for surgical repair of anastomotic leakage should be made as early as possible to improve patient outcome. Re-laparoscopy and lavage after laparoscopic operation is feasible and safe and has less postoperative complications than an open re-intervention [128].
Postoperative Bleeding
In general postoperative bleeding after colorectal procedures is a rare complication. The risk depends on the performed surgical procedure, the co-morbidities of the patient and in individual cases on an impaired clotting system. In the initially postoperative phase abnormal heart rate and low blood pressure should be reported and interpreted by the surgeon. Haemoglobin and hematocrit measurements can help to determine a blood loss.
Ileus
Postoperative ileus has long been considered an inevitable consequence of gastrointestinal surgery. It prolongs hospital stay, increases morbidity, and adds to treatment costs. The pathophysiology of postoperative ileus is multifactorial. The operating time and intraoperative blood loss are independent risk factors for a postoperative ileus [129].
Postoperative ileus can develop after all types of surgery including extraperitoneal surgery. A variety of treatment options have been reported. However, it is difficult to compare these studies because of of the different anesthesia protocols used and patient comorbidities differed significantly.
Paralytic postoperative ileus is usually treated with a combination of different approaches. These include limitation of narcotic use by substituting alternative medications such as nonsteroidals and the placement of a thoracic epidural with local anesthetic. The selective use of nasogastric decompression and correction of electrolyte imbalances also are important factors to consider.
Conclusion
Here, we summarize the main complications of colorectal surgery which are important to the specialist, the general surgeon and the gastroenterologist as well. We also tried to show strategies to minimize intra- and postoperative complications. Development in treatment strategies and technical inventions in the recent decade have been enormous. This is mainly due to the laparoscopic approach, which is now well accepted. Training of the surgeon, hospital volume and learning curves are becoming more important to maximize patient safety, evaluate surgeon expertise and calculate cost effectiveness. In addition, standardization of postoperative care is essential to minimize postoperative complications. Risk factors which influence intra- and postoperative complication rate are summarized in Table
1
.
Table 1
Importance of risk factors for intra- and postoperative complications
| Risk factors | Intraoperative Complications | Postoperative Complications |
| --- | --- | --- |
| Age | + | + |
| Male Gender | + | + |
| Malnutrition | + | + |
| Experience Surgeon | (+) | + |
| ASA class > III | + | + |
| Preoperative anemia | (+) | + |
| Intraoperative blood transfusion | + | + |
| Operating time | + | + |
| Neoplasia | + | + |
| Bowel injury | + | + |
| Obesity | + | (+) |
| Prior myocardial infarction | (+) | + |
| Heart failure | (+) | + |
Authors' Affiliations
(1)
Department of Visceral and Transplantation Surgery, University Hospital of Zürich, Switzerland
Copyright
© Kirchhoff et al; licensee BioMed Central Ltd. 2010
This article is published under license to BioMed Central Ltd. This is an Open Access article distributed under the terms of the Creative Commons Attribution License (http://creativecommons.org/licenses/by/2.0), which permits unrestricted use, distribution, and reproduction in any medium, provided the original work is properly cited.