Patterns of unexpected in-hospital deaths: a root cause analysis
Patient Safety in Surgery
2011
5:3
Received: 7 April 2010
Accepted: 11 February 2011
Published: 11 February 2011
Abstract
Background
Respiratory alarm monitoring and rapid response team alerts on hospital general floors are based on detection of simple numeric threshold breaches. Although some uncontrolled observation trials in select patient populations have been encouraging, randomized controlled trials suggest that this simplistic approach may not reduce the unexpected death rate in this complex environment. The purpose of this review is to examine the history and scientific basis for threshold alarms and to compare thresholds with the actual pathophysiologic patterns of evolving death which must be timely detected.
Methods
The Pubmed database was searched for articles relating to methods for triggering rapid response teams and respiratory alarms and these were contrasted with the fundamental timed pathophysiologic patterns of death which evolve due to sepsis, congestive heart failure, pulmonary embolism, hypoventilation, narcotic overdose, and sleep apnea.
Results
In contrast to the simplicity of the numeric threshold breach method of generating alerts, the actual patterns of evolving death are complex and do not share common features until near death. On hospital general floors, unexpected clinical instability leading to death often progresses along three distinct patterns which can be designated as Types I, II and III. Type I is a pattern comprised of hyperventilation compensated respiratory failure typical of congestive heart failure and sepsis. Here, early hyperventilation and respiratory alkalosis can conceal the onset of instability. Type II is the pattern of classic CO2 narcosis. Type III occurs only during sleep and is a pattern of ventilation and SPO2 cycling caused by instability of ventilation and/or upper airway control followed by precipitous and fatal oxygen desaturation if arousal failure is induced by narcotics and/or sedation.
Conclusion
The traditional threshold breach method of detecting instability on hospital wards was not scientifically derived; explaining the failure of threshold based monitoring and rapid response team activation in randomized trials. Furthermore, the thresholds themselves are arbitrary and capricious. There are three common fundamental pathophysiologic patterns of unexpected hospital death. These patterns are too complex for early detection by any unifying numeric threshold. New methods and technologies which detect and identify the actual patterns of evolving death should be investigated.
Keywords
Obstructive Sleep ApneaPulse OximetryPulse OximeterRespiratory AlkalosisRapid Response Team
Background
Unexpected deaths in hospitals and the complications leading to them often include some form of respiratory failure. The macro and micro system dysfunctions responsible for these unexpected respiratory instabilities have been extensively studied, but there still remains considerable misunderstanding among general care clinicians as to how this all works. Much of the confusion is explained by the beleaguered clinician's susceptibility (aka affinity) for conventional wisdom that promises to reliably simplify or "reduce" the complexity and work so often defining the clinical conditions of their hospitalized patients. Easily tracked physiologic bio-markers with warnings when certain "limits" are breached, e.g. breaching of specific heart rate or respiratory rate thresholds, have for years been thought to reflect the onset of serious clinical instabilities. Alarms on our monitors and the monitors themselves become ever more cosmetically impressive, but still function by warning us of these basic breaches, which in theory should be good for patients if the breaches really do detect clinical instability early, when it can be most effectively treated. Unfortunately, this isn't the case. Recent examination shows our "reductionist" monitoring methods to be substantially over-simplified, capable of reliably detecting clinical instability only much later in its devolution. As a result, stakeholders invested in the status quo are now starting to argue, "Better late than never." This sort of rationale may at first sound reasonable, but thorough analysis should convince you otherwise, exposing it as glib, self serving and seriously flawed by its cost to us all in terms of patient morbidity, mortality, and squandered resources. The late detections being signaled by our monitors are often associated with antecedent false senses of security that actually further delay recognition and rescue otherwise likely to occur through astute and timely clinical observation. Without the monitor, decisions to call for help might well have been made based on clinical signs and symptoms, but these are frequently discounted now because of the reassurance provided by our monitors' silence.
In cases of unexpected onset of respiratory trouble, current detection methods are often ineffective, yet nevertheless have been tenured because of their ease and tradition of use with little modification guided by scientific fact or value measured through patient outcomes. One example (we'll discuss later in detail) making this point is the 90% SPO2 threshold from the pulse oximeter. Many general care clinicians still behave as if this number has magical properties capable of precisely differentiating respiratory stability from failure. Over-simplified concepts like this can be very seductive to harried clinicians inclined to believe in them. Unfortunately, as we soon shall see, any reassurance conveyed by SPO2 values over 90% is often as false as the clinicians' misplaced beliefs.
We will review in detail three very distinct and irreducible clinical paths that make up the majority of unexpected respiratory problems seen in hospitals today. Unless caught early, these paths commonly progress to critical instability and death, with each path so physiologically unique they don't begin sharing any patterns until terminal. What this means regarding the possibility of early detection is that no single threshold bio-marker breach today can identify any of these paths' patterns reasonably near their onsets, but rather only much later if at all. That's bad news for the threshold industry and all of us depending on it, but there is good news. Sequential clinical patterns defining our three instability paths leave behind uniquely distinct "footprints" in real-time. These footprints are built from bio-marker signal composites based on the actual relational (conformational) patterns these bio-markers leave from their changes over time. We will be discussing new alarm processing methods for capturing and recognizing these actual relational patho-physiologic patterns once we've reviewed in depth the inherent weaknesses of our present monitoring paradigm and how it is we've come to this critical juncture in providing patient safety.
Some of the problem has been that reliable information on these unique pattern architectures was until now sequestered to a great extent in niche sub-specialties like sleep medicine. It isn't unusual in healthcare to discover much later important clinical information effectively concealed from the front-line hospital caregiver having to most often deal with its potential co-morbid associations. This front-line lack of understanding is reflected in the unquestioned way we've chosen to monitor our general care patients, and even more by many of our standard-of-care processes when framed in a common sense context of early recognition being the most essential component to successfully reversing any clinical deterioration. Just look at our current management protocols on sepsis. Because sepsis is known to be so lethal, most hospitals today have designated protocol-explicit physiologic criteria that once identified, trigger alarms for immediate rescue deployment. One such criterion is reached when a patient's respiratory rate breaches a threshold set typically at 30 per minute. Yet the definition of sepsis established in 1992 by the American College of Chest Physicians and Society of Critical Care Medicine includes any respiratory rate greater than 20 per minute. Every competent clinician appreciates the deadliness of sepsis and the importance of recognizing it early for a successful resuscitation. This has been called the golden period; when missed, mortality and hospital cost rise dramatically. So how can we argue logically for extending our threshold alarms out past 30 breaths per minute when its defining criterion is so significantly less? Why would clinicians allow such delays in calling for help, knowing their patients' lives depend on early, aggressive therapeutic intervention?
We hope you'll find the following discussion interesting and informative. We expect as well that you may find much of what we have to say provocative, given that we challenge many deeply entrenched cultural beliefs underpinning our hospital general care as it's currently being practiced. For this we don't apologize. Anyone familiar with the day-to-day inner workings of our hospitals knows them to be far from perfect despite the best intentions of many bright, highly skilled clinicians that include our nurses, physicians, and ancillary care providers. This discussion is designed to be straight forward and transparent with its claims well referenced and appropriately illustrated. For all it exposes as being less than optimal, it offers reasonable fixes. Patients deserve what they've in the past taken for granted, optimal management of unexpected clinical change...in short, their safety. This can only happen with both early, accurate detection and timely, competent response. Your advocacy for immediate change being made in our traditional beliefs and choices regarding recognition/response strategy is the only way to assure this safety going forward.
Methods
The Pubmed database between 1956 and December 15, 2010 was searched for articles relating to methods for triggering rapid response teams and respiratory alarms on hospital wards and for articles pertaining to the fundamental physiologic mechanisms and pathophysiologic patterns of death which evolve due to sepsis, congestive heart failure, pulmonary embolism, hypoventilation, narcotic overdose, and sleep apnea.
Discussion
From the success it enjoyed in Operating Rooms and Specialty Care Units [
90
] came the assumption by the late 1990 s, albeit without much forethought, that threshold pulse oximetry (its policies included, e.g. 90% threshold) would seamlessly transition into the general care environment and culture without a wrinkle. However, significant problems were to surface immediately, the majority having little to do with issues of false security or obvious reductions in safety. Rather, these problems cut to the very heart of our human condition, our fundamental need for a sane working environment. Floor nurses found themselves immediately overwhelmed by incessant alarms blaring each time a resting patient began to cycle into their repetitive sleep apnea related desaturations. Figure
6
shows how threshold alarm processors reduce Type III patterns to states of "
Alarm on" OR "Alarm off"
.

These alarms were triggering so frequently, nurses were forced to come up with ingenious ways to control the disruption without disregarding policy. While their solutions were highly creative, they weren't always patient centric or in keeping with optimizing safety. One personal favorite is having the audible pulse tone and alarm on patient room oximeter dialed up to full volume, while the duplicate signals being sent off to the central nursing station are respectively muted and disarmed. Clever stuff, albeit a tad self serving, what people will come up with to preserve their sanity. Admittedly unfortunate for the room's occupant, their being kept awake all night, but certainly an effective way to curtail any possibility of disordered breathing while sleeping.
Because nothing was known about Type III patterns at the time and most patients were self rescuing through arousal anyway, the alarming problem was attributed to incidental patient movement and signal noise. Regardless, it was causing both widespread "alarm fatigue" (an already well recognized threat to patient safety) right from the start [91–94], and even worse for industry business...monitor abandonment. This drove industry leaders to begin looking for solutions through design improvements made to their motion attenuation filters in the oximetry sensors. While a separate issue and never a problem in the operating rooms, movement needed to be accounted for on hospital floors. Patient motion, especially from the finger where the sensor attached, could back then easily corrupt its signal and generate a false alarm. But this issue was just confounding the more important physiologic challenges being faced but not seen, the pervasive airflow reductions and associated desaturations that were occurring during sleep in the hospital.
Nevertheless, the prevailing view maintained that a new generation of "motion resistant" pulse oximetry would solve these problems [12, 13], but then a large randomized prospective trial by Ochroch et al. completed at the University of Pennsylvania in 2006 [11] using threshold based, motion tolerant oximetry failed to show any clinical benefit overall, discrediting the "the false positive alarm premise" as the reason for its lack of efficacy. In addition, this trial made an interesting discovery; that threshold triggered pulse oximetry potentially has a dichotomous effect, helping some but adversely affecting others. This explains what is now called the "threshold oximetry paradox", a dichotomy where clinicians anecdotally observe that pulse oximetry can provide pivotal warnings for some patients, while randomized controlled clinical trials fail to reflect any overall benefit. The findings of this Penn trial suggest that these benefits to some patients were somehow being offset in others, so that in aggregate the threshold triggers were not helpful on the general floors studied.
In spite of the mounting, contrary evidence and all the initial disruption, our seduction by over-simplified threshold applications like standard pulse oximetry on the hospital floors continued. Many legitimate reasons can explain this, and none are meant to demean. There is a tendency for all of us to forget complex, abstract theory while immersed in moment to moment chaos as is so often the case in our hospitals. The statistical profiles of our monitoring and testing applications aren't easy concepts to grasp, and most of us can use regular reviews on the complexities represented by our PUHDs. This would include physicians as well as those dedicated clinicians most closely aligned to the hospital floor environments, our hard working floor nurses. They, quite honestly, were never trained to know these details we've been covering. Oximetry and its ill-fitting policy were largely forced on them. They, in return and without meaningful physician-led guidance, were compelled to modify their policies in ways that made sense to them, creating value through compromise. In order to assimilate pulse oximetry and not completely unravel their myriad workflow processes and policies that might otherwise endanger their patients, they created many interesting ways to work around its flaws. None of the references cited in this paper are even on their radar, and aren't suppose to be. In addition, few physicians understand themselves how this stuff works, or have the time to teach our nurses the information we've covered. Those physicians most likely to 'get it" are most often sequestered within their own unique environments like Critical Care Units, ORs, ERs, Post Anesthesia Care Units (PACU), and Sleep Laboratories. Critical Care Physicians are familiar with unstable patients because that's all they treat. Their patients start improving, wham, they're transferred to the floor, essentially disappearing. Anesthesiologists may be familiar with OR and PACU airway threats, but have scant experience with the floor events being discussed. ER Physicians are triage specialists, typically working tirelessly and quickly with some of the least sophisticated monitoring in the hospital, while Sleep Specialists are hidden away in environments furthest from our hospital floors. The monitoring industry has been the ongoing default educator for many of our nurses, and all business bias aside, from where do they get their clinical insight? Anesthesiologists and Critical Care Physicians...clinicians least familiar with the hospital floors' special needs.
This pervasive ineffectiveness contributes heavily to many ill-advised decisions, like the nascent movement toward "actionable thresholds" supported by the oximetry industry. Its "raising-the-threshold" technique (lowering the threshold value) on alarm triggers essentially remains untested in controlled, randomized trials to date, but our collection of solid clinical references regarding Types I, II, and III PUHDs should support your taking a justifiably skeptical position when asked to believe the best answer for detecting any serious clinical instability early is simply to select a more extreme threshold value, like an SPO2 of 80% or heart rates greater than 140 bpm [95]. Implementing extreme threshold values can certainly mitigate alarm fatigue, but any comfort provided by the silence will last only until the nurses, doctors, and families involved discover their patient near death.
These recently recommended modifications to SPO2 and heart rate thresholds expose the arbitrary and capricious provenance of all threshold values, and perhaps competency weaknesses of those making the recommendations. These thresholds are so readily modified because they were chosen as "best guesses" to begin with, without any analysis of the actual instability patterns generating their breaches. These new recommendations haven't been properly analyzed either. We've already discussed how our original (less extreme) thresholds are able to become reliable data/time fragments (achieving high sensitivity and specificity simultaneously), but when coupled with RRT activation in a DFGP, the overall process only capably detects and manages late instability leading to disappointing outcomes. Recall our beginning point. The highly complex and varied patho-physiologic patterns comprising unexpected instability in the general care environment simply can't be reduced to single, numeric threshold values capable of the early detection essential for successful rescues. Now the industry and its vested supporters are telling us to extend these arbitrary data/time fragments out even further, rendering them significantly less capable than they already are. Knowing people in the industry as we do, we understand their intentions are principled, but they're going at this the wrong way. They can't be blamed for scrambling to find solutions to the disruption problem, but these efforts reflect their significant lack of clinical understanding pertinent to the care being delivered on hospital floors. Blind, persisting loyalty to these threshold applications, and the threshold paradigm in general, is frankly both unsafe and dangerous.
An alternative effort to improve patient monitoring has focused on mathematically fusing multiple parametric values such as SPO2, heart rate, respiration rate, temperature, and in some cases etCO2 through statistical modeling, the composite then able to generate a variety of derivative indices [1, 96], at once more statistically sound (reliable) and more capable. While this approach provides a larger and more robust data/time fragment and is an improvement, it remains an over-simplistic DFGP model, accordingly suffering from many of the same limitations as our traditional thresholds. It's becoming clear that more physiologic information must be synthesized to generate improved alarm systems and RRT triggers so that they can perform to optimal effect in this complex environment.
In response to these new realizations, the attention of the industry is now being redirected toward the development of a new class of patient monitor which, rather than alarming in response to simple threshold breaches, detects, identifies, quantifies and tracks the actual or conformational patterns of evolving death as they develop relationally across multiple parameters over time. An analogy in industry would be automotive traction control, where a computer detects and quantifies the relational pattern of a skid to provide an optimal response. A simplified example of this alternative approach can be envisioned by imagining a programmed patient monitor capable of detecting and tracking the relational geometric patterns drawn off the conventional, high resolution signals shown in figures 1, 2, 3. This would include an alarm processor programmed to automatically detect and quantify these patterns and identify the pattern types, finally tracking their severity over time so the response of any particular pattern to treatment can be monitored as well. Regardless the approach taken, there is general agreement that new and radical paradigms are required to engage the clinical complexities under discussion. The unique requirements for more patient-centered cognitive support systems means accepting that incremental advances in data fusion and statistical processing are insufficient [97]. The limitations of data/time fragment guided protocolization mandate that the processing engage the EMR so that all relevant data available can be included in the analysis going forward. The requirement for computational transparency, as well as the ability to process large parallel data streams across different scales in real time severely limit the options within our dominate technologic paradigms today [97]. Bottom line, the status quo and its derivatives get a generous C- in an industry where we all should insist on straight A's.
For those readers more technically inclined, Time Series Matrix Objectification (TSMO) provides one example of a radically new approach being developed. TSMO is a new hybrid signal processing technology capable of organizing and detecting patterns within large groupings of clinical parameters. Using this new technology, variations in these parameters (trends, perturbations, etc.) along parallel time-series (waveforms) are each converted into sequential and overlapping time domain objects of ascending complexity in a relational and inheritance based hierarchy. In this way, simple objects (such as a rise in white blood cell count) can be combined with other parallel objects (such as a relational rise in respiration rate, fall in platelet count, rise in pulse rate, fall in bicarbonate, rise in anion gap, etc.) to produce a complex and progressively enlarging two dimensional complex object or image comprised of smaller objects across the parallel waveforms of many parameters. The complex objects over the entire evolution of a sepsis cascade, for example, may be comprised of a very large and a progressively growing number of objects. Complex objects are assembled along a range of visual time scales and inherit all of the smaller objects from which they are derived, and can therefore be viewed and disassembled by the healthcare worker using touch screen interaction to provide complete real-time transparency. Using this technology, the pattern of undetected sepsis (a Type I PUHD), for example, begins with a focal rise or fall in white blood cell count or some other inflammatory marker, and then progresses over hours to days to involve increasing numbers of parallel parameters expanding over time. As shown in figure
7
, this appears like a funnel cloud along the timed relational matrix of parallel patient parameters until final collapse occurs. Given the complexity of this Type I pattern, the futility of the application of data fragments such as any single threshold becomes clearly evident.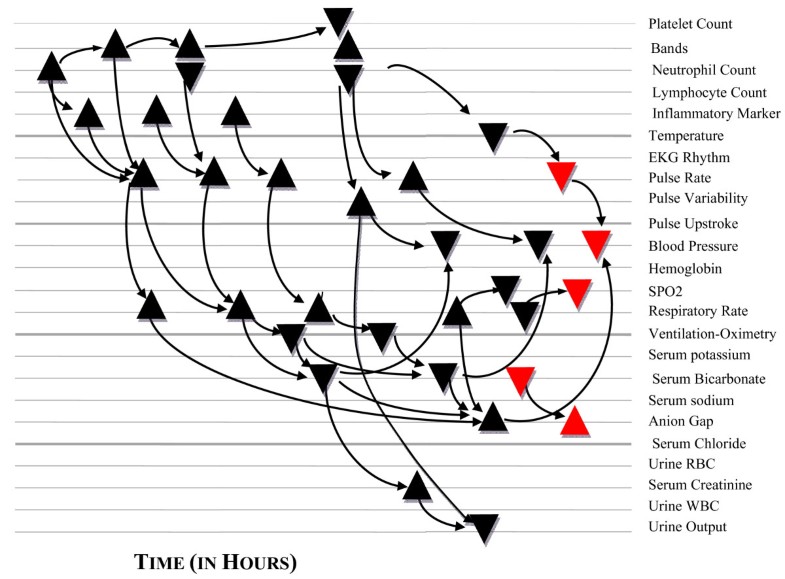 When objectified by the processor, these parallel object streams constructed from parallel clinical objects are now in a format searchable by an object search engine. Since clinical failures generally occur by specific mechanisms and/or along failure cascades, they will be comprised of object cascades across the objectified matrix producing definable complex objects (images), such as the complex cascade object of sepsis. The search engine can be programmed to automatically search the EMR and monitor data for these complex cascades at preselected intervals. In this way, rather than relying on traditional monitors in isolation, the entire EMR, including the relational outputs of the traditional monitors (if applied) are combined to produce a matrix of simple objects, and these simple objects are combined and searched to detect the more complex objects (images) which indicate the presence of a patho-physiologic cascade, e.g. PUHD I, II, and III.
Regardless the approach, and there are many alternatives, the broad goal [98] is to provide a highly sensitive and specific method of comprehensive data stream analysis with computational transparency so the healthcare workers can see the patterns when they've been detected and tracked. Presently there remains a strong residual focus on thresholds [2]. However, this is now changing rapidly and once our collective attention turns to PUHD detection, many alternative approaches will likely be developed. One of the purposes of this review is to encourage this development and the study of all new technologies with potential for detecting and tracking death patterns early.
Conclusion
Some of you may still be puzzled by why patient monitors used in hospitals today have remained incapable of detecting and tracking the three common patterns of unexpected hospital death. We agree that this lack of progress in patient monitoring over the past decade is very difficult to explain, given our rapid advancements in other arguably less important technologies. For example, each year a new generation of smart phone is released, and it seems ironic that a patient can be dying of undetected sepsis while connected to a 21st century monitor incapable of recognizing it early, while at the same time having a mobile phone in his pocket able to detect a song and its artist just by listening to it. The best explanation for the persistent and constrained focus of industry experts on our traditional monitoring technologies that would include our relentless searching for more "optimal" thresholds [2] is explained by the difficulty engaged by any science caught in its own expert paradigm.
Scientists despite their intellect, have a common human flaw which makes their behavior seem, at times, foolish. This flaw comprises a human trait to think as a herd, holding to common dogma, and rejecting opposing science, long after the dogma has reached the point of silliness to outsiders looking in. But there is good news. Since no professor wants to be caught clinging to old discredited science, when the dogma finally begins to break, this triggers a rapid abandonment of the old concepts and produces dramatic new directions of the science which often produces revolutionary benefits [98].
This year the FDA standards committee (ASTM) for pulse oximetry began to consider establishing minimum standards which would require that patient monitors marketed for use on the hospital general floor are capable of detecting and identifying at least the three common patterns of unexpected hospital death by 2014. However there remains no consensus and many committee members still advocate a continued search for the optimal alarm threshold. The standards (ASTM) group is open for membership (or input) to interested clinicians, patient safety advocates and researchers.
We began our discussion by taking a contrary position to what we identified as being conventional wisdom, thereafter exploring in detail three very distinct and irreducible pattern architectures associated (but not generally well understood) with unexpected clinical instabilities found in the general care environments of our hospitals. We explored as well the detection inadequacies of monitors currently available to us, and their impact on all patients forced to trust our opinions regarding their safety. We then called a question for your consideration, framed as follows: every competent clinician appreciates the lethality of sepsis and the importance of early detection for successful resuscitation...so how and why can it be argued reasonably, our setting threshold alarms for this disease at limits that would purposefully delay its detection?
We hope, now that you've taken the time to read this document and perhaps have supplemented your reading with our extensive references, that you'll agree there isn't an acceptable answer to the question above. Many of our routine practices are little more than culturally tenured, suboptimal approaches taken for granted for far too long. We're all fundamentally committed to excellence and have the talent to deliver it, but the forces we've allowed to shape the infrastructure of our professional lives are far more potent and pervasive than any of us can easily perceive. Add in our manic workloads and information inundation, and we all become pawns in a much grander scheme of healthcare mediocrity. We, your authors, like most healthcare workers, love complex information in our hectic clinical worlds to be "dumbed down" into appropriately understandable and reliable bits and bites...but we also recognize that the paradigm in which we now operate has gone too far with these reductionist processes. We're mired in a swamp of obsolete ideology and archaic tradition. It's continuing to cost lives needlessly and we need to be courageous enough to stand together and say it's time for change...it's the only way we can ever hope to help the millions of patients relying on us, our hospitals, and our monitors to keep them safe.
Authors' information
JPC is a senior staff anesthesiologist and past Chief of Staff of Hoag Memorial Hospital Presbyterian, Newport Beach, CA. He founded and is clinical advisor for the Hoag Rapid Response Initiative, has been a past member of clinical advisory boards for two leading oximetry companies, and is a clinical professor in the Department of Anesthesiology, UCLA David Geffen School of Medicine. LAL is a pulmonary and critical care physician and serves as executive director of the Sleep and Breathing Research Institute in Columbus Ohio. He also serves on the FDA standards committee for pulse oximetry monitoring.
List of abbreviations
RRT:

(rapid response team)
PUHD:

(pattern of unexpected hospital death)
RA:

(respiratory alkalosis)
MA:

(metabolic Acidosis)
RR:

(respiratory rate)
Ve:

(minute ventilation)
DFGP:

(data- time fragment guided protocolization)
EMR:

(electronic medical records)
TSMO:

(time series matrix objectification)
Declarations
Acknowledgements
There were no sources of funding for this study
Authors' Affiliations
(1)
The Sleep and Breathing Research Institute, Columbus, USA
(2)
Department of Anesthesiology and Perioperative Care, Hoag Memorial Hospital Presbyterian, Newport Beach, USA
(3)
Department of Anesthesiology, UCLA David Geffen School of Medicine, USA
Copyright
© Lynn and Curry; licensee BioMed Central Ltd. 2011
This article is published under license to BioMed Central Ltd. This is an Open Access article distributed under the terms of the Creative Commons Attribution License (http://creativecommons.org/licenses/by/2.0), which permits unrestricted use, distribution, and reproduction in any medium, provided the original work is properly cited.