A cascade of preventable complications following a missed femoral neck fracture after antegrade femoral nailing
Patient Safety in Surgery
2013
7:16
Received: 4 April 2013
Accepted: 20 May 2013
Published: 23 May 2013
Abstract
Background
Occult femoral neck fractures associated with femoral shaft fractures are frequently missed and may lead to adverse outcomes.
Case presentation
A 46-year old female presented to our institution with increasing groin pain one month after antegrade intramedullary nailing of a femoral shaft fracture at an outside hospital. Radiographic evaluation revealed a displaced ipsilateral femoral neck fracture, adjacent to the piriformis starting point of the nail. A revision fixation of the femoral shaft and neck fracture was performed. The patient sustained a series of complications requiring multiple revision surgeries, including a total hip arthroplasty. Despite the cascade of complications, the patient had an uneventful long-term recovery, without additional complications noted at one-year follow-up.
Conclusion
This case report illustrates the necessity of increased awareness with a high level of suspicion for the presence of associated femoral shaft and neck fractures in any patient undergoing antegrade femoral nailing. Arguably, the cascade of complications presented in this paper could have been prevented with early recognition and initial stabilization of the occult femoral neck fracture. Standardized diagnostic protocols include "on table" pelvic radiographs to rule out associated femoral neck fractures. The diagnosis must be enforced in case of equivocal radiographic findings, either by computed tomography scan or magnetic resonance imaging.
Keywords
Femoral neck fracture
Femoral shaft fracture
Missed injury
Complication
Background
Femoral neck fractures associated with ipsilateral femur shaft fractures are uncommon injuries with a low incidence of 2% to 6% [1, 2]. Occult femoral neck fractures can be challenging to diagnose and are missed in up to 30% of all cases [2, 3]. The etiology of these associated injuries is either related to the primary traumatic event, or by a secondary (iatrogenic) intraoperative fracture induced by intramedullary femoral nailing [1, 2]. Missed femoral neck fractures can displace over time and require additional surgical procedures, including a total joint replacement, which is associated with additional potential complications, including symptomatic limb length discrepancy and hip dislocation [4–6]. In this case report we describe a series of subsequent complications associated with a missed femoral neck fracture after femoral nailing and discuss potential root causes, preventability, and diagnostic strategies.
Case presentation
A 46-year-old female presented to the orthopaedic outpatient clinic of our level 1 trauma center one month after sustaining bilateral femur fractures in a motor vehicle accident. These injuries were treated at an outside hospital by locked plating of the right distal femur fracture, and by antegrade intramedullary interlocking nail fixation of the left femoral shaft fracture. She presented for a second opinion experiencing progressive left groin pain in the absence of an additional trauma, resulting in wheelchair dependency. The physical examination revealed healed surgical incisions on bilateral lower extremities, and impaired active and passive range of motion to the left hip secondary to significant pain. Neuromuscular examination of the distal left lower extremity was within normal limits. She had a leg-length discrepancy with shortening of the right leg secondary to multiple previous surgical procedures, which included a right total hip arthroplasty (THA) after acetabular fracture fixation, ipsilateral sacro-iliac joint fusion, and right-side distal femur plate fixation (Figure
1
). The patient also demonstrated a right-sided foot drop. Radiographic evaluation revealed a displaced basicervical femoral neck fracture adjacent to the piriformis entry point of an antegrade femoral interlocking nail. This implant was effectively stabilizing a transverse midshaft femur fracture, with early signs of callus formation (Figure
2
). After discussing all treatment options, the patient underwent closed reduction of the femoral neck fracture on a traction table, and revision fixation of both fractures was performed with a reamed cephalomedullary nail (Stryker Gamma 3™, Mahwah, NJ) through a greater trochanter starting point. Postoperative radiographs revealed an adequate cumulative tip-apex distance of <25 mm, however, the reduction appeared to be in slight varus of the hip (Figure
3
).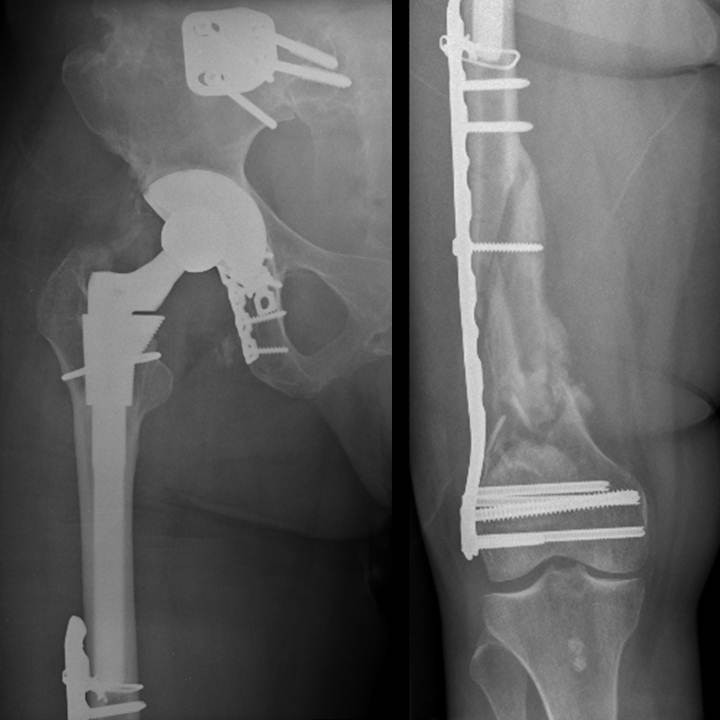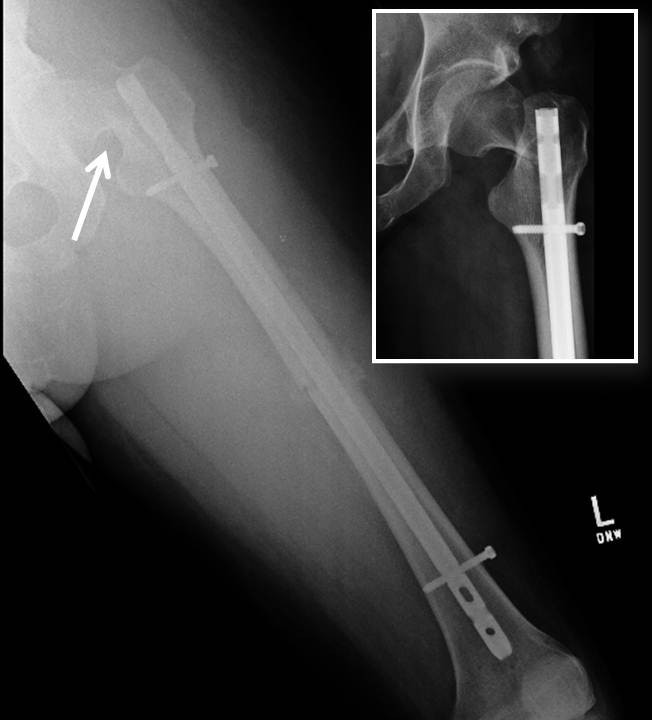 At two-week follow-up, the patient was ambulating with weight bearing as tolerated on crutches. All surgical incisions were healed and staples were removed. Six weeks later, she reported progressive worsening of left hip pain without additional hip trauma. She was no longer able to bear weight on the left leg and had resumed use of a wheelchair for 3 weeks. Physical examination demonstrated no indication of infection, but any motion of her left hip was extremely painful. Radiographs revealed a failure of fixation of the basicervical femoral neck fracture, with "cut-out" of the lag screw through the femoral head. The midshaft femur fracture was continuing to heal uneventfully (Figure
4
).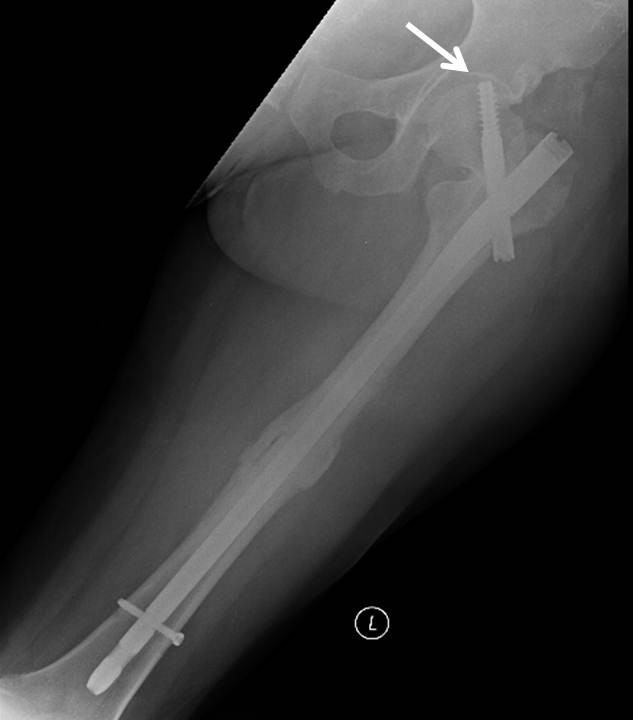 Given the unsalvageable damage to the femoral head and acetabulum she was converted to a total hip arthroplasty (THA). The procedure was performed without complications, using non-cemented acetabular cup and press-fit stem components (Zimmer, Warsaw, IN). The stem of the arthroplasty appears to have been placed in slight varus position (Figure
5
). On postoperative day one, the patient mobilized with physical therapy and noted a significant leg-length discrepancy, with the left leg approximately 3.5 cm longer than the right, as confirmed by full-length standing X-rays (Figure
6
). The patient was offered a revision THA to partially correct the leg length discrepancy. She agreed and a revision THA was performed, including proximal femoral shortening and revision of acetabular and femoral components resulting in a near equal leg length (Figure
7
). The patient subsequently sustained an acute anterior dislocation of her left THA revision at one week after discharge from the hospital, possibly related to the shortening procedure (Figure
8
). The dislocation was successfully managed by closed reduction under general anesthesia. The intraoperative exam revealed that the hip was stable in full flexion and abduction, but unstable in extremes of extension or adduction. The THA dislocation was successfully managed in a hip abduction orthosis for 6 weeks. The patient had no further complications or adverse events, and presented with an acceptable outcome at one-year follow-up in our orthopaedic clinic.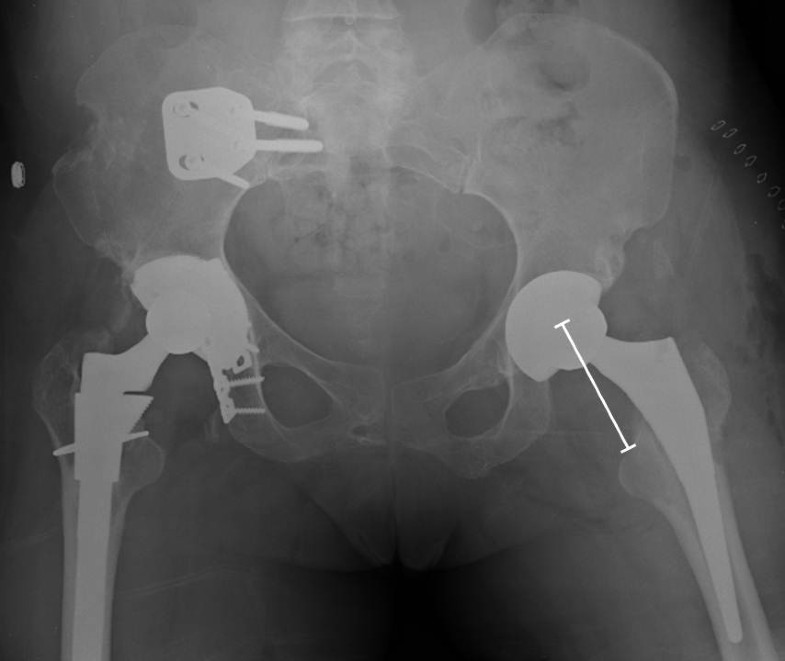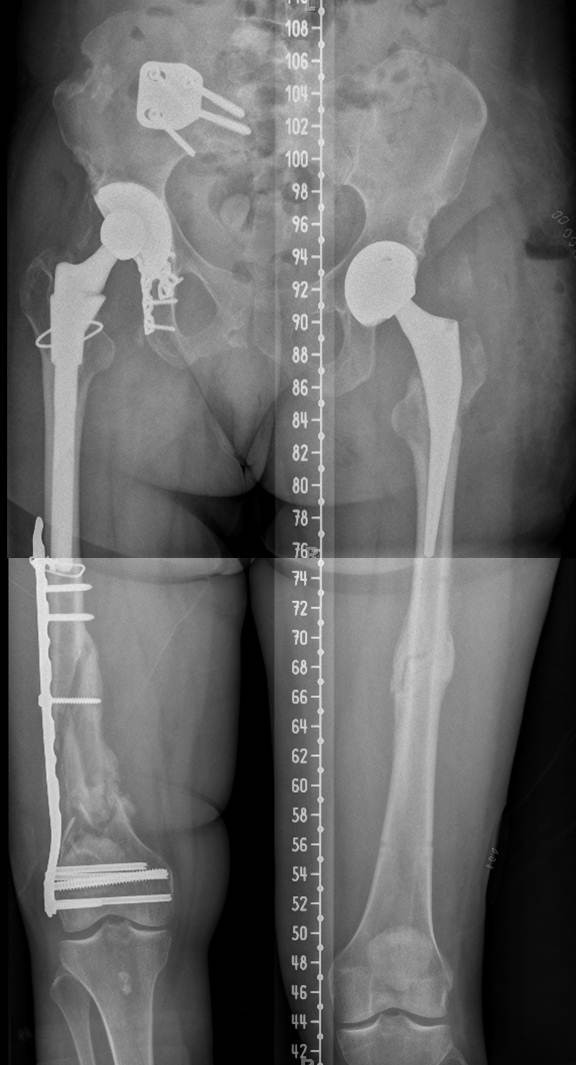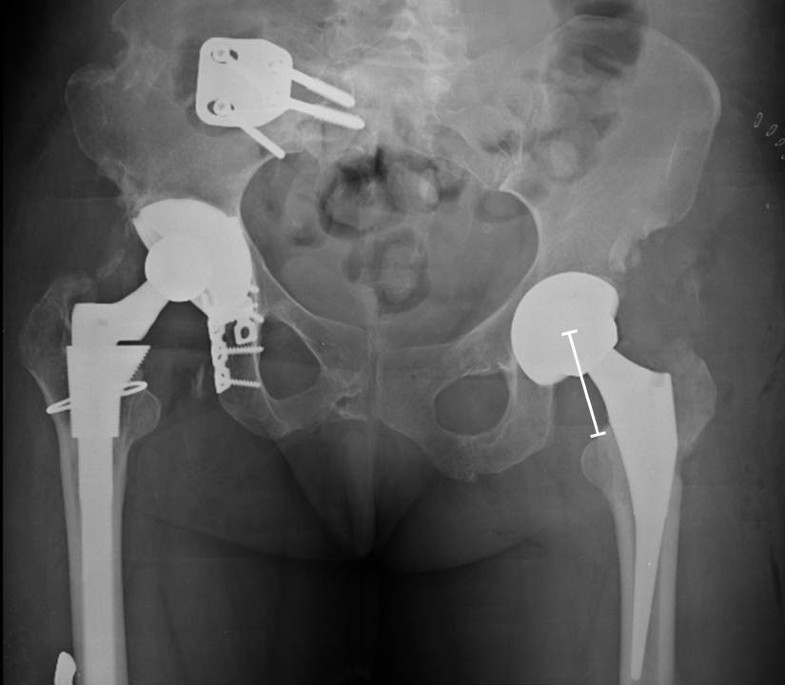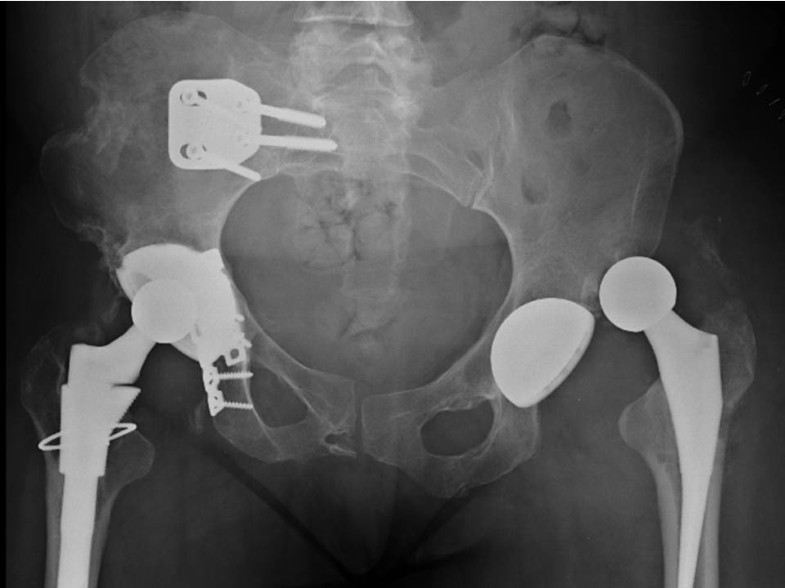 Discussion
This case report describes a series of complications secondary to a missed femoral neck fracture after antegrade femoral nailing in a 46-year old patient. The patient eventually achieved an acceptable functional outcome at one-year follow-up, despite multiple adverse events and re-operation. This unfortunate case illustrates the importance of an increased awareness combined with a high level of suspicion for the presence of associated femoral neck and shaft fractures. In the present case the initial index surgery was performed at an outside hospital and given a lack of access to initial radiographs, it is impossible to speculate whether the femoral neck fracture occurred as an iatrogenic complication during the intramedullary nail procedure, or whether this was a trauma-related injury missed during the initial assessment. Regardless of the exact root cause, this case presents a series of adverse events and preventable complications which are ultimately due to the initially missed femoral neck fracture, which would have been amenable to primary stabilization as part of the index procedure. We will further discuss the individual specific complications in relation to the pertinent peer-reviewed literature.
Conclusion
This case report highlights multiple unfortunate events and preventable complications in a young patient treated for bilateral femur fractures after a motor vehicle accident. The sentinel complication consists of a missed femoral neck fracture during the initial work-up or at the time of antegrade femoral fixation. This case illustrates the importance of an adequate pre-operative radiographic workup, including internally rotated anteroposterior and lateral plain radiographs of the hip for visualization of the femoral neck, both prior to and after completion of antegrade femoral nailing. The availability of pre-operative computed tomography (CT) scans obtained during the full-body trauma work-up allows for the orthopaedic surgeon to scrutinize the images for the presence of an occult, nondisplaced femoral neck fracture. In addition, fluoroscopic views of the femoral neck and "on table" plain radiographs should be performed as a standard protocol, prior to patient awakening and extubation [2, 3]. The present case report serves as a reminder to orthopaedic trauma surgeons, and to the next generation of surgeons in training, to carefully analyze all pre-/intra-/and post-operative radiographs for associated injury, and to have a low threshold for further the preoperative evaluation of suspected concomitant femoral neck and shaft fractures with adjunctive diagnostic strategies including thin-cut CT scans and magnetic resonance imaging (MRI) when radiographic findings are equivocal.
Consent
Written informed consent was obtained by the patient described in this manuscript for publication of the case report, including all radiographs and images shown in the figures.
Abbreviations
CT:

Computed tomography
LLD:

Limb length discrepancy
MRI:

Magnetic resonance imaging
ORIF:

Open reduction and internal fixation
THA:

Total hip arthroplasty.
Authors' Affiliations
(1)
Department of Orthopaedics, Naval Medical Center, San Diego, San Diego, USA
(2)
Department of Orthopaedics, Denver Health Medical Center, University of Colorado, School of Medicine, Denver, USA
Copyright
© McDonald et al.; licensee BioMed Central Ltd. 2013
This article is published under license to BioMed Central Ltd. This is an Open Access article distributed under the terms of the Creative Commons Attribution License (http://creativecommons.org/licenses/by/2.0), which permits unrestricted use, distribution, and reproduction in any medium, provided the original work is properly cited.