The second "time-out": a surgical safety checklist for lengthy robotic surgeries
Patient Safety in Surgery
2013
7:19
Received: 14 April 2013
Accepted: 30 May 2013
Published: 3 June 2013
Abstract
Robotic surgeries of long duration are associated with both increased risks to patients as well as distinct challenges for care providers. We propose a surgical checklist, to be completed during a second "time-out", aimed at reducing peri-operative complications and addressing obstacles presented by lengthy robotic surgeries. A review of the literature was performed to identify the most common complications of robotic surgeries with extended operative times. A surgical checklist was developed with the goal of addressing these issues and maximizing patient safety. Extended operative times during robotic surgery increase patient risk for position-related complications and other adverse events. These cases also raise concerns for surgical, anesthesia, and nursing staff which are less common in shorter, non-robotic operations. Key elements of the checklist were designed to coordinate operative staff in verifying patient safety while addressing the unique concerns within each specialty. As robotic surgery is increasingly utilized, operations with long surgical times may become more common due to increased case complexity and surgeons overcoming the learning curve. A standardized surgical checklist, conducted three to four hours after the start of surgery, may enhance perioperative patient safety and quality of care.
Keywords
Brachial Plexus
Robotic Surgery
Brachial Plexus Injury
Surgical Safety Checklist
Robotic Case
Introduction
Robotic surgery has become an increasingly adopted technology. Improved dexterity in narrow spaces and faster patient recovery are just some of the advantages cited in favor of adopting this new approach. After initial applications in gynecologic and urologic surgeries, robotic operations are now becoming more common. Indeed, robotic prostatectomy is currently estimated to be the most used method for radical prostatectomy in the United States [1] and robotic surgeries are being more frequently utilized in general and thoracic surgeries [2, 3].
As most practicing surgeons have not had extensive training in robotic surgery, the learning curve may be heterogeneous. Additionally, as complex operations are often embraced with robotics, longer operating room (OR) times are common in the early experience [4, 5]. These prolonged operations can be a challenge on many fronts. Not only do they exacerbate surgeon fatigue, but long cases also complicate nursing and anesthetic care. Furthermore, extended cases can put the patient at increased risk for position-related patient complications such as peri-operative peripheral nerve injury and rhabdomyolysis [6, 7].
Indeed, patient positioning in extended robotic operations is of particular concern in regards to patient safety. Many robotic operations involve positioning of patients in angles that may not be well studied. For example, a tendency to exaggerate the Trendelenberg position during gynecologic and urologic robotic operations has been shown to increase intraocular pressure [8]. Patient positioning is further complicated by factors which make shifts in position difficult to notice. Not only do robotic arms partially obscure the patient, but surgeons perform these operations somewhat dissociated from the patient, as they sit at a console away from the bedside. Positioning-related complications ranging from neuropathy to blindness have been reported after robotic surgery [9, 10].
Complications such as those mentioned above can be challenging to address. However, since the World Health Organization published its surgical checklist in 2008, part of which includes a pre-operative "time-out", checklists have been proven effective in decreasing perioperative morbidity and mortality [
11
]. To identify and possibly prevent some of the complications associated with extended robotic surgeries, we propose a "second time-out"— a checklist conducted three to four hours after the start of surgery (Figure
1
). This "second time-out" is designed to assess patient safety in this unique surgical environment, particularly during the initial learning curve and with complex procedures. Furthermore, this checklist is designed to promote communication between the surgical, anesthetic and nursing staff while addressing specialty concerns which disproportionately impact patient care during prolonged robotic operations.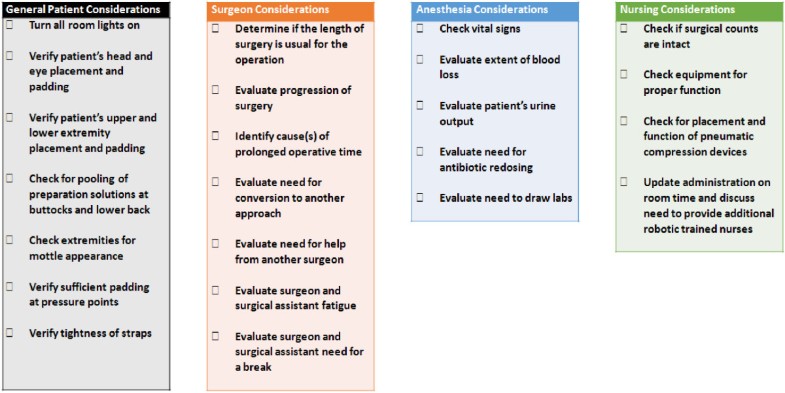 Methods
Analysis of the literature was performed, particularly addressing robotic operations with prolonged OR times. Based on this review, a checklist was developed to intervene on these issues prior to them becoming adverse events. Pubmed.gov was searched for articles containing the word "prolonged", "extended", "time", "duration", "complication(s)", "position(ing)", "concern(s)", "injury" or "injuries" along with the term "robotic" in the title. A total of 200 Pubmed articles fit the preliminary search criteria, of which 23 were appropriate for this study. The 23 articles reviewed were then used to further expand the search with the specific complications and concerns identified.
Checklist components
Suggestions from the literature were scrutinized and the second time-out was developed and categorized based on general areas that should be addressed by different members of the team. Four separate areas were incorporated: general patient factors, surgeon factors, anesthesia factors, and nursing factors (Figure 1). This design allowed the checklist to be cognizant of the specialized concerns of each staff's expertise while simultaneously engaging the entire team.
Conclusions
While robotic surgeries have many advantages, they also predispose to certain complications, especially those which stem from prolonged operative time. Simultaneously, longer robotic surgeries are becoming more prevalent as surgeons overcome the learning curve and attempt more complex cases. These long surgeries put a significant strain on nursing, anesthesia, and surgical staff in the OR. They also raise concerns which are often not an issue in shorter, non-robotic cases. To address these issues and facilitate inter-disciplinary communication, we have developed a comprehensive checklist to be conducted during a "second time-out" three to four hours after the beginning of the case.
At our institution, we have rolled out the second time-out on a preliminarily basis over the last year by asking surgeons to adopt it on a voluntary basis. A select group of surgeons utilizing the second time-out have expressed positive feedback so far. Our initial experience has demonstrated a relatively minimal intrusion to the case time for the second time-out to be performed (Can be as little as a few minutes to complete it). As such, we are continuing to accrue further feedback prior to proposing greater adoption. Ongoing studies are being performed to evaluate its effectiveness.
Future considerations regarding the second time-out include further check-points conducted at regular intervals after the second time-out has been conducted, as a way to ensure continued reflection and communication in cases which extend much further than 3–4 hours. Furthermore, based on the results of our ongoing studies regarding the effectiveness of the second time-out in robotic cases, this concept can potentially be applied to all prolonged surgeries.
Authors' Affiliations
(1)
Washington University in St. Louis School of Medicine, St. Louis, USA
Copyright
© Song et al.; licensee BioMed Central Ltd. 2013
This article is published under license to BioMed Central Ltd. This is an Open Access article distributed under the terms of the Creative Commons Attribution License (http://creativecommons.org/licenses/by/2.0), which permits unrestricted use, distribution, and reproduction in any medium, provided the original work is properly cited.